BOOK A CLASS
Classical Pilates is a system of exercises that will bring the body's core to a level of strength that no other type of exercise can achieve. We recommend Pilates 1- 3x a week. It can be a combo of classes and privates. We suggest at least one private before you start classes. If you choose to start with classes please start with an OPEN Level class!
BOOK A PRIVATE
When you purchase our Introductory Package of Privates ( 4 privates), the first session with one of our instructors will be an assessment. We want to hear about your health and movement history so we can create the perfect pilates plan. Carey and the Aline team will discuss your goals to customize a roadmap of privates and or classes to help your achieve these goals. Sessions can be done in person or virtually.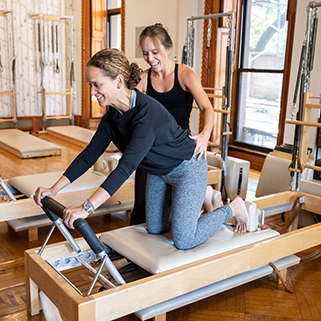 MORE THAN JUST PILATES:
We also offer Pre/Post Natal, guided stretching, Pilates Fundamentals, and M.E.L.T. Method. Reward your hard work with our carefully curated oils as we end our sessions with a mediation and stretch.

TWO GREAT WAYS TO GET STARTED:
Intro Private Package In Studio or Online / $340 for 4 Privates
Click to purchase  & email us.
Intro Class Pack
2 in studio classes for the price of 1! $48