In Studio Tower
or Reformer Classes
Jump in at anytime for Pilates that inspires and works for your schedule.
Our Reformer and Tower Classes are small in size, 3 to 6 persons in size. We ask that our students have previous knowledge of the equipment before jumping into any class. Please email us if your nor sure if your ready to join the open classes.
TOWER CLASSES
WHAT IS TOWER?
If you only have one hour… A•line founder Carey's signature private session is a fusion of all things bliss to help you maximize your one hour of "you time"! A classical tailored Pilates workout, with guided stretching, hand or foot MELT Method finishing off with essential oils chosen specifically for your needs. An integration of Scooping, Stretching and MELTing.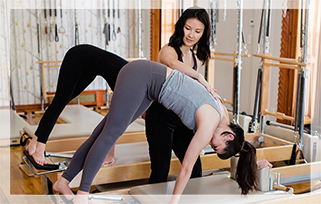 REFORMER CLASSES
Classical
Limited to three clients, 55 minutes, all on the reformer. The reformer offers lots of individual attention. Warning: Addictive. This requires previous reformer experience or completion of the A•line intro pack prior to booking. Class is limited to 4 persons.
REFORMER/CHAIR CLASSES
The reformer and chair combo is an intense but fun ride. The chair the smallest of the apparatus demands a great deal of strength and connection giving the body an intense workout. The two machines give the body a lot of feedback and stability. Class is limited to 3 persons.

"Pilates is the complete coordination of mind, body and spirit"
—JOSEPH PILATES, FOUNDER OF THE PILATES METHOD